Major\Minor Review Part One
"Though I walk through the val­ley of the shad­ow of death I shall fear no evil." Psalm 23.
Major\Minor recent­ly came out on Steam for $9.99, and again­st my bet­ter judg­ment I bought it dur­ing a sale. The game is made by Klace, and I'm led to believe that this was most­ly a one man job. Our editor-in-chief, Josh Bray, jok­ing­ly sug­gest­ed the title for review. But I'm a glut­ton for pain, so here we are. I will be review­ing the game as a series since new chap­ters are com­ing out every mon­th. Needless to say there will be unmarked spoil­ers, which I don't believe will both­er any­one.
The sto­ry cen­ters around you as the pro­tag­o­nist tra­vers­ing a fur­ry filled world that is not all it seems. Your gen­der is left ambigu­ous (which I like, actu­al­ly) and you also get to pick the name of your furry-self. Please excuse the names I chose that you may see in the screen­shots.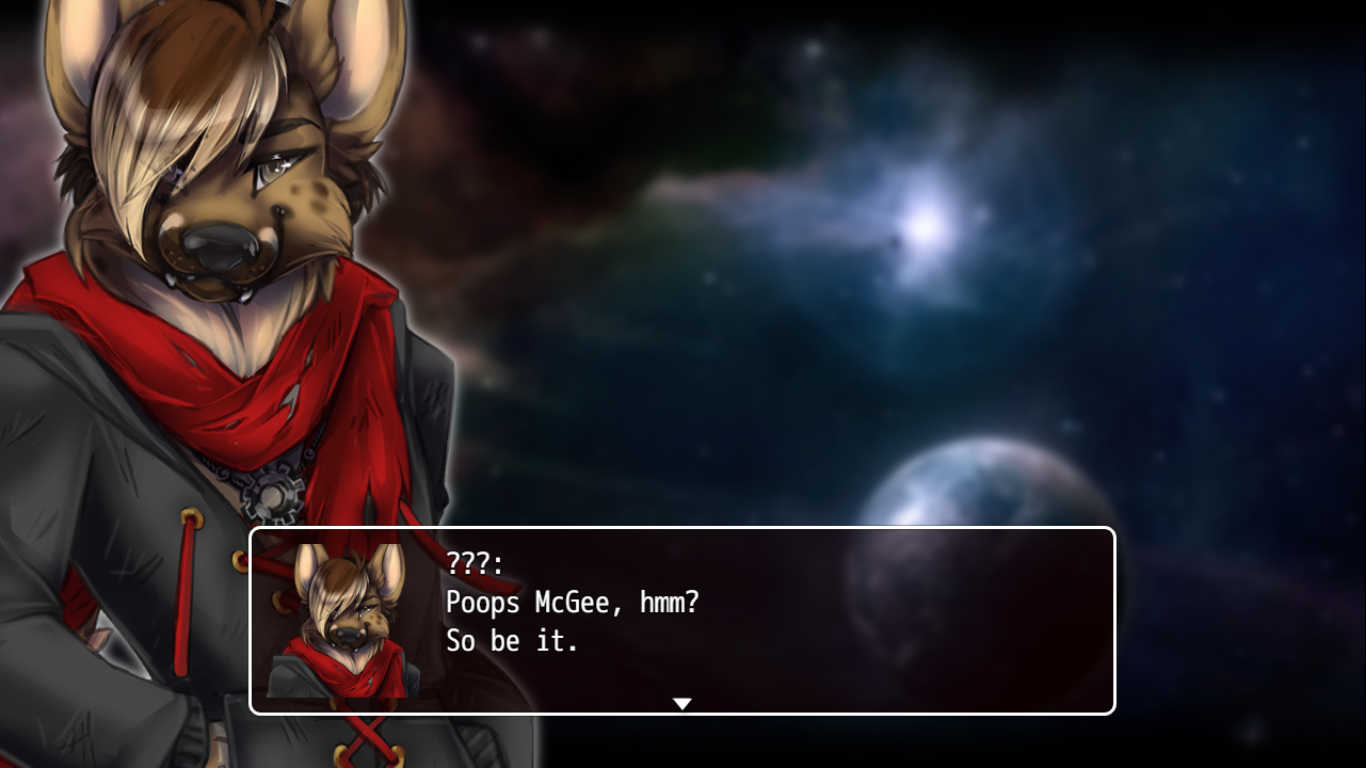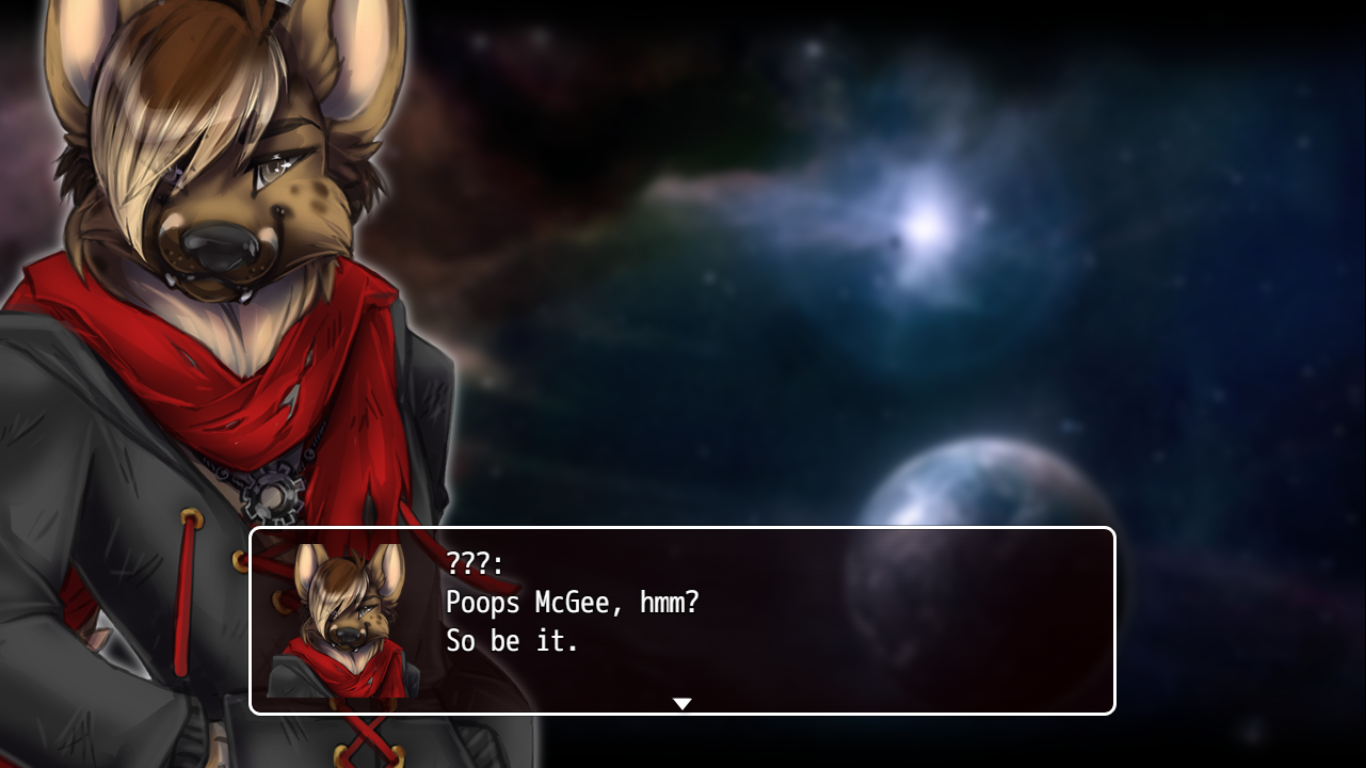 You are haunt­ed by weird visions of anoth­er world that you try to for­get as you make your way through Japan to meet your favorite pop star Klace (I see you over there game dev, you ego­tis­ti­cal lit­tle bug­ger you). You and one oth­er con­tes­tant recent­ly won a con­test to spend a year with Klace and tour with him. The game­play was some­what of a let down. You sit and watch fur­ries talk while you wait for your turn to final­ly be able to say or do some­thing. The music was sur­pris­ing­ly very nice in spots, and this made it the most bear­able part of this game to be quite hon­est. The set­tings are fine, all that jazz can be fid­dled with at the begin­ning of the game. The first thing you may want to do is turn down the music, though, as it's very loud when you start.
As men­tioned above, the sto­ry cen­ters around two con­tes­tants — you being one of them — trav­el­ling to Japan to spend a year on tour with your favorite self-insert dev/musician, Klace. It's pret­ty straight­for­ward after you get through the char­ac­ter nam­ing por­tion where you're "in between worlds" talk­ing to a mys­te­ri­ous unnamed char­ac­ter. After that you're zapped back into your body back in the bul­let train you're rid­ing. You meet some­one named Kila, the only oth­er English speak­er on the entire train.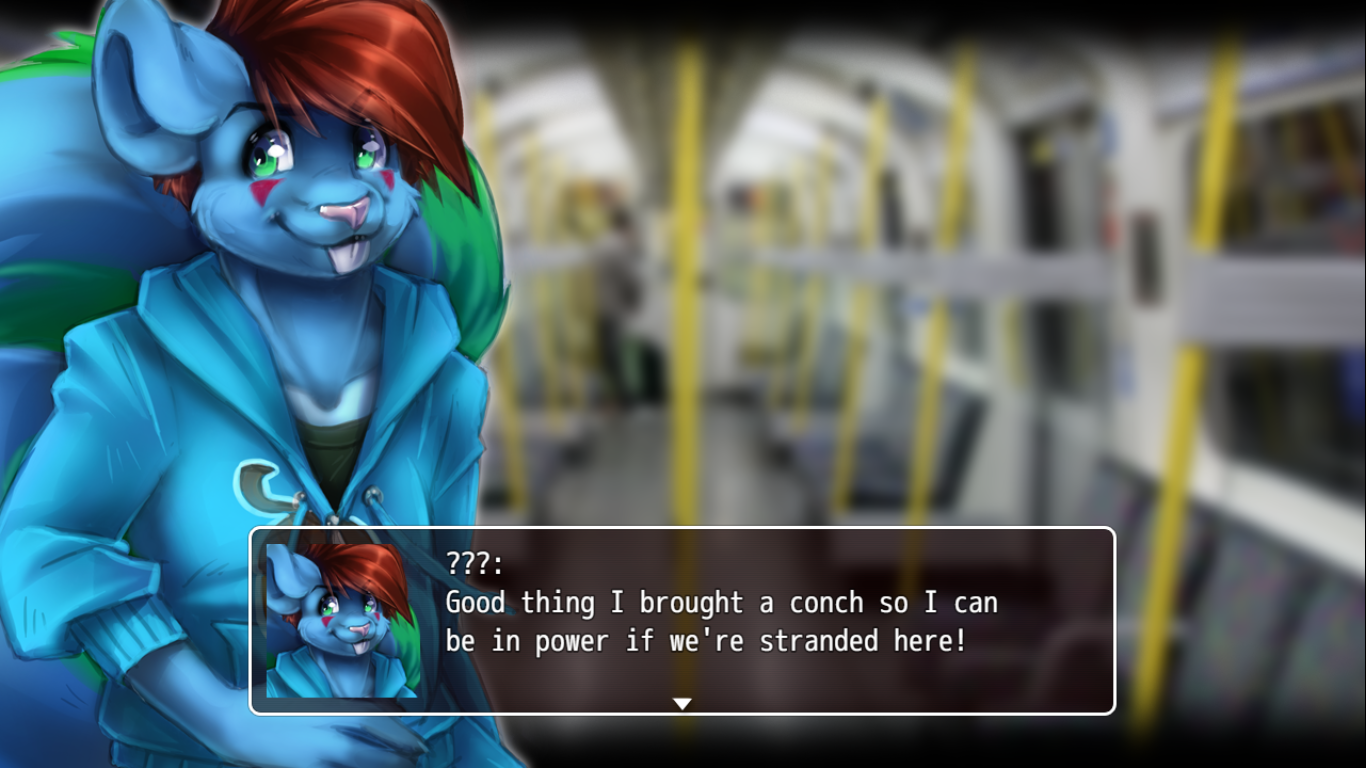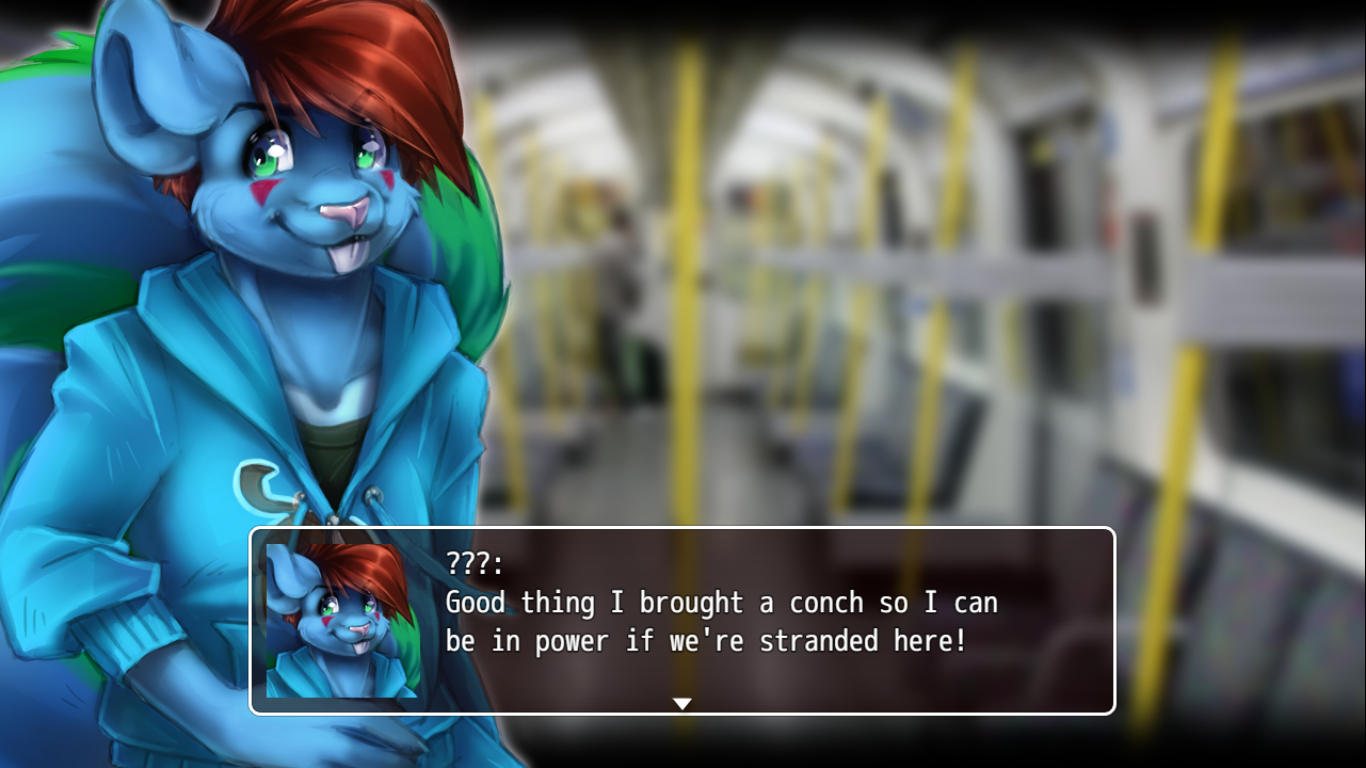 That blue… uh… squir­rel thing? That is Kila. You think to your­self, "Oh, I won­der if he's gonna be impor­tant lat­er," while you're also wait­ing to get off the train and meet up with Rook. He is con­nect­ed to Klace, though you don't know how, so this could all be a clev­er ruse and you're on Punk'd or some shit (or may­be I am for play­ing this game? I can't tell yet).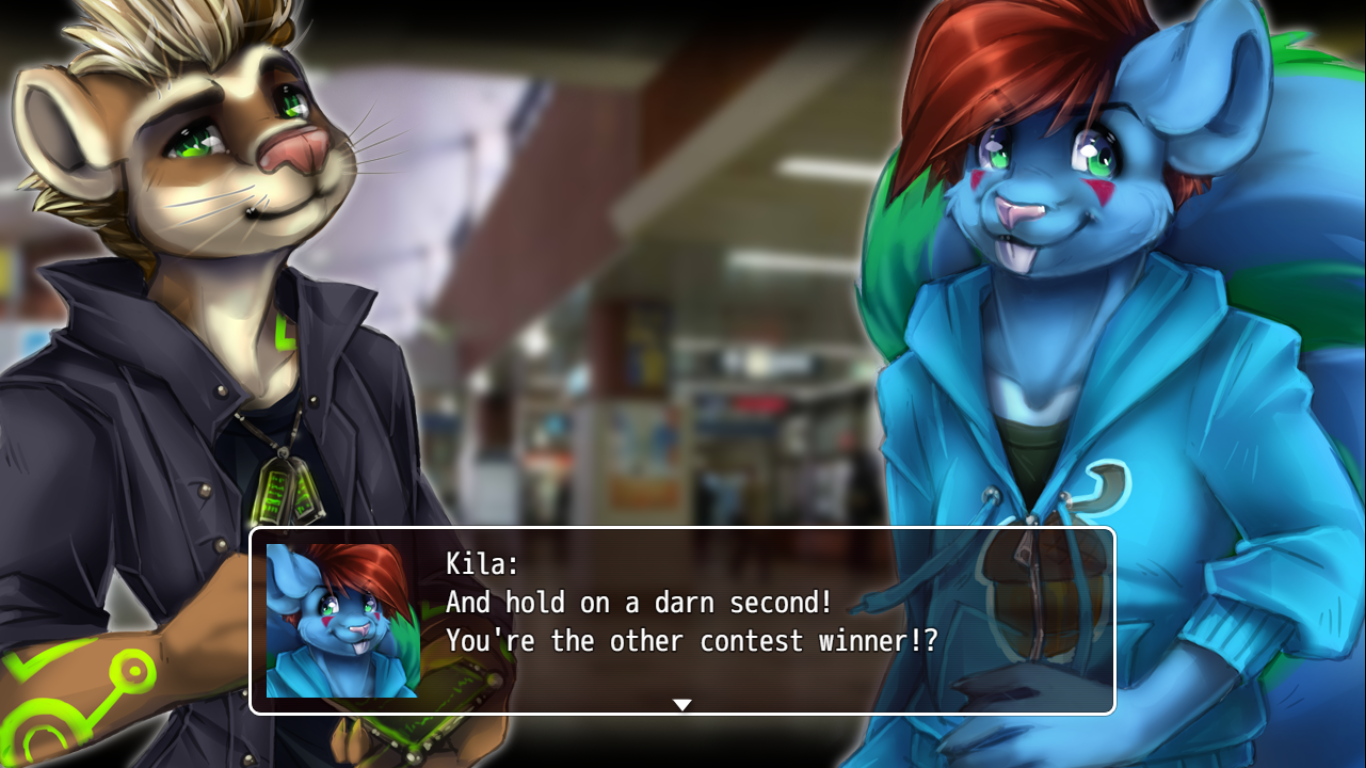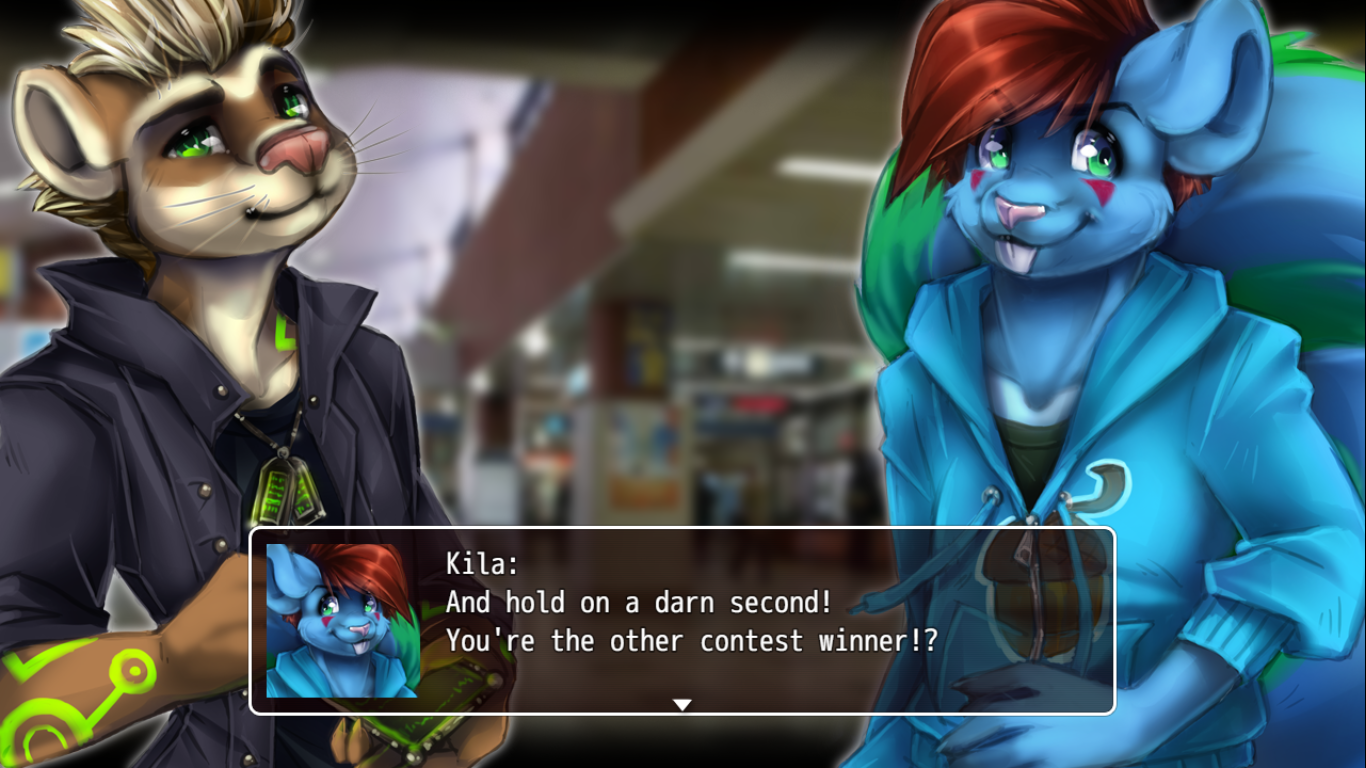 You then meet up with Rook and the oth­er con­tes­tant. And I won­der who that is? Oh well, of fuck­ing course it was Kila, you stu­pid piece of shit! Who did you expect, the pope?! Were you expect­ing any sort of sur­pris­es in this game? What were you think­ing, you moron?!
Klace is stuck deal­ing with some­thing, so for now you, Rook — who is a total flat and dis­tant ass­hole — and Kila — who is also pret­ty flat as a char­ac­ter — go out and have a fun day out on the town. Depending on which choice you picked ear­lier when talk­ing to Kila on the train that one time, you can either go to a Maid Cafe or some­where Rook choos­es which turns out to be an awe­some, giant arcade. I chose the Maid Cafe, and I'm sure glad I chose that route because it was a gold mine. You'll see why.
Rook thinks you're lame for want­i­ng to go, but still takes you to the cafe. You hop into a limo with this griffin limo dri­ver wom­an thing, and Rook light­ens the mood by telling you about The Midnight Deaths where peo­ple either kill oth­er peo­ple and/or them­selves. After thor­ough­ly scar­ing his new friends, Rook dumps you off on the street and stays away from the cafe. Here the griffin wom­an, Jade, gets out with you.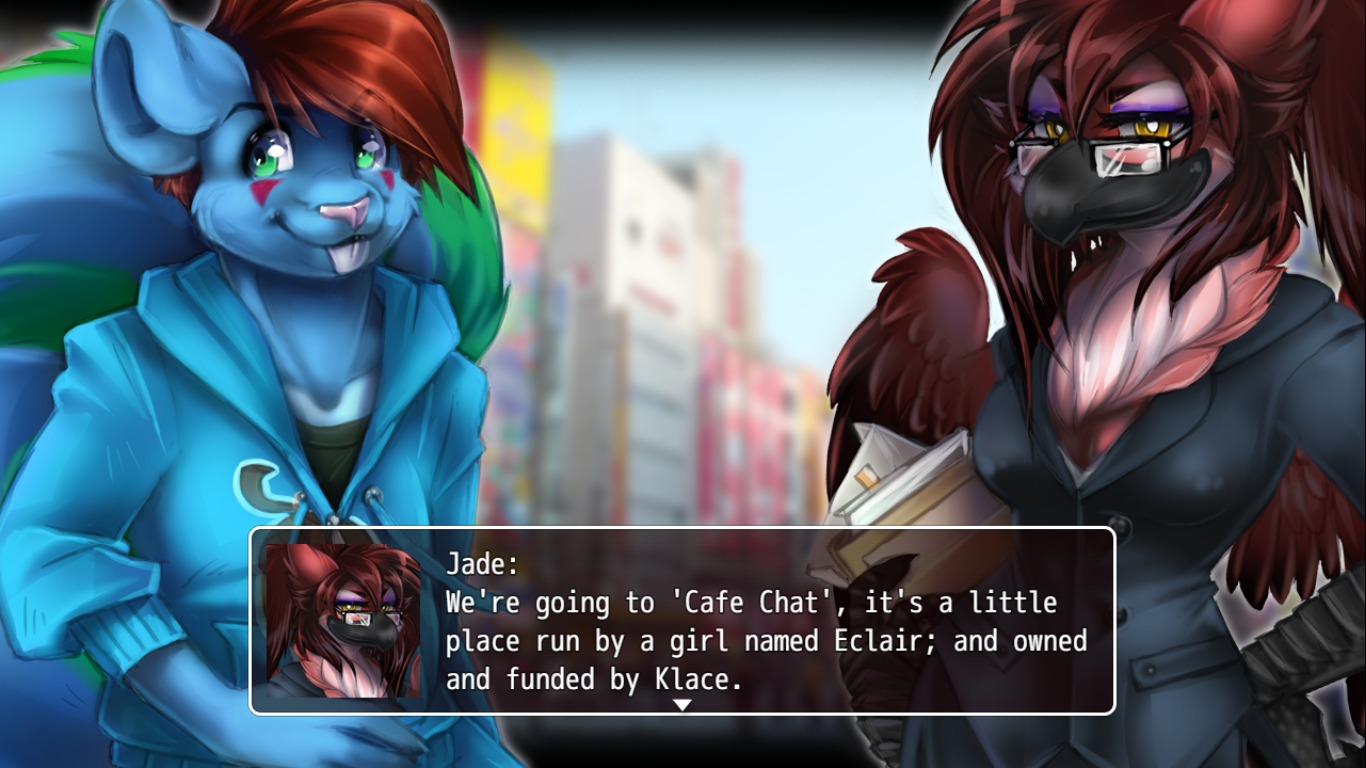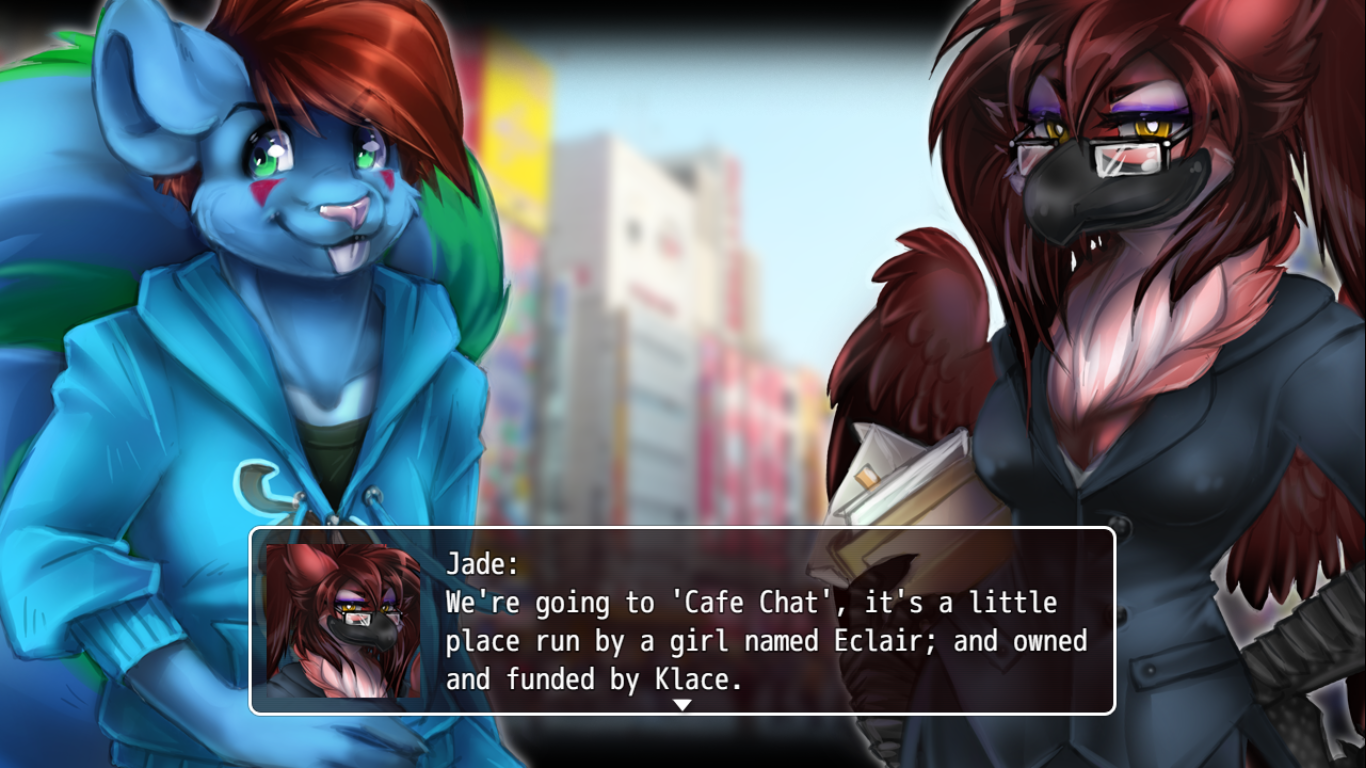 And then Kila, who is appar­ent­ly some Maid Cafe con­nois­seur, says this: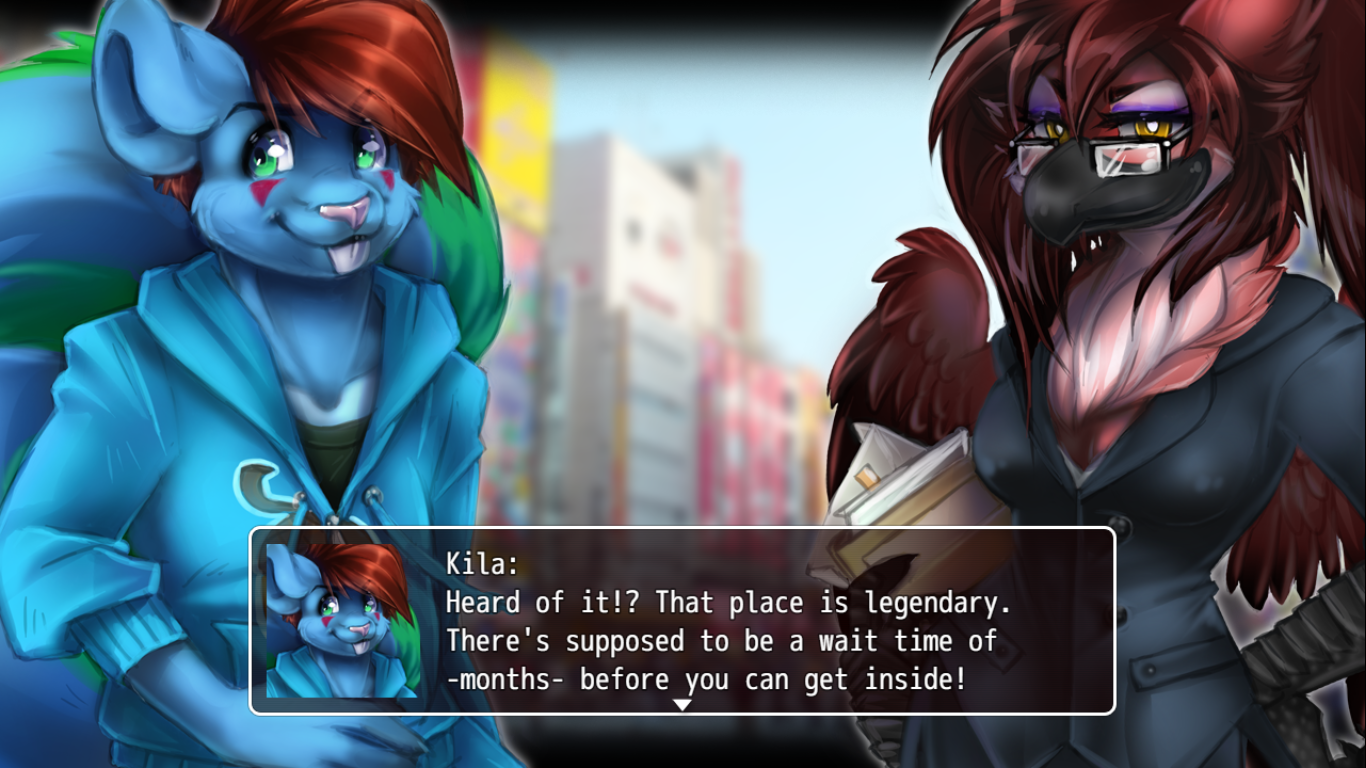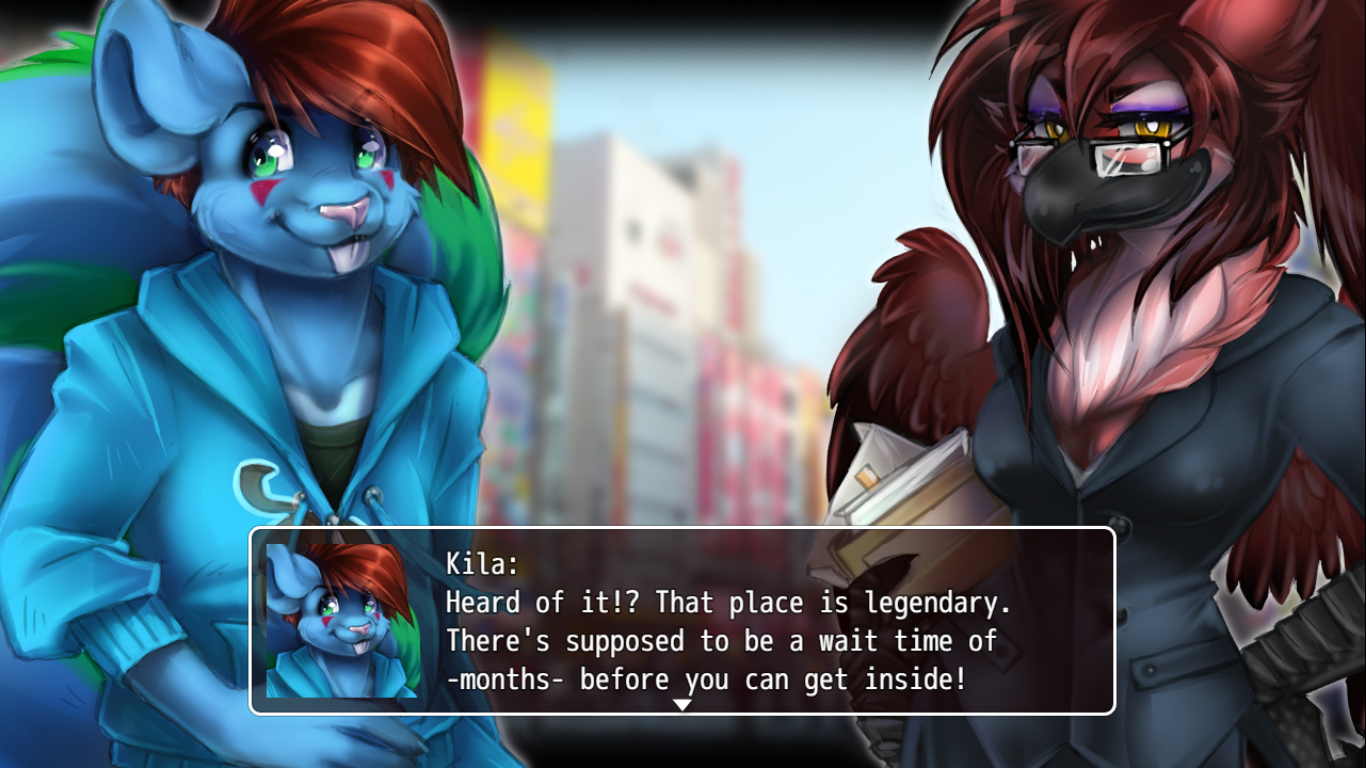 Inside you meet Eclair, the wom­an who runs the joint.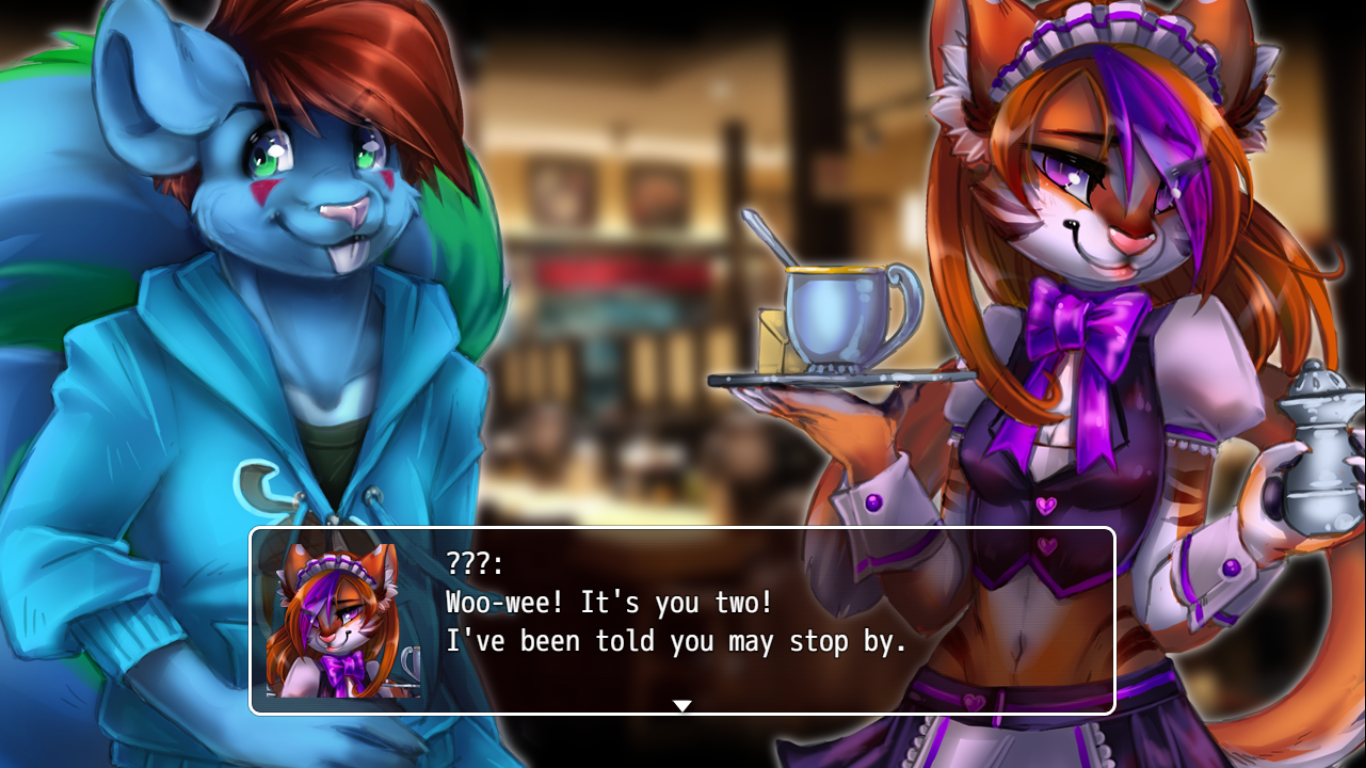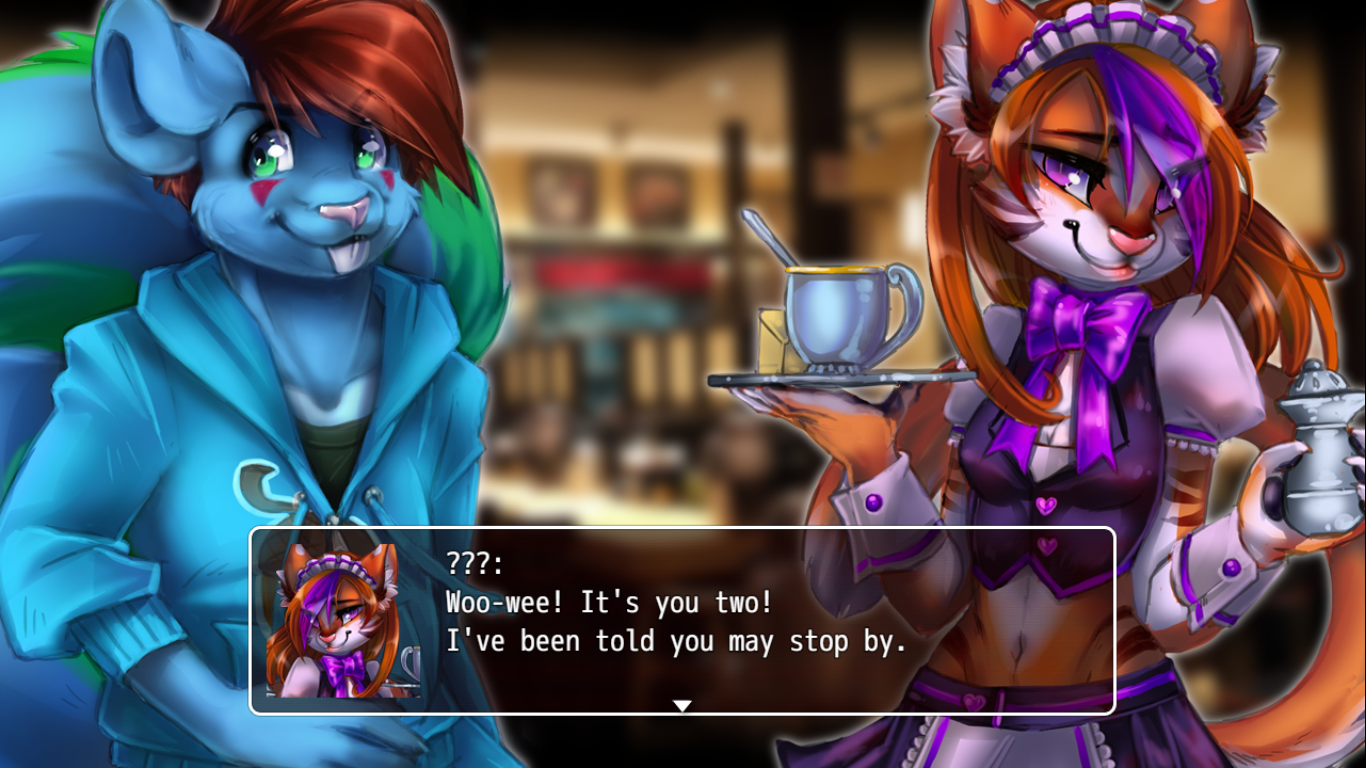 She's a nice lady who comes to serve you and plays a lit­tle triv­ia game (where, sur­prise, you get no choic­es) with you and Kila. You find out she was close with Rook at one point, and he was even a host with her. After telling you all this she gets upset and leaves. You can either go after her to help, or leave with Kila. When you leave, Kila yells at Rook for being cold and mis­treat­ing the two of you as you go to your hotel. Otherwise, if you go after Eclair she's off cry­ing at her desk.


This is my favorite part, actu­al­ly.
She was cry­ing with bed­room eyes, and the plates and shit still in her hands. Eclair dear, I don't believe you were cry­ing one bit. Now who's under that desk?
After she talks about her weird almost romance thing she had with Rook, you exchange phone num­bers and leave. You head out to the hotel where you will be stay­ing, and sit around with Kila in your room and turn on the TV where a reporter is talk­ing about anoth­er Midnight Death. Wanna know who died?
And this is the first real sur­prise in this entire affair. I want to give the dev cred­it for not let­ting his own char­ac­ter live long, but you know this shit is going to put him on a pedestal and we'll nev­er stop hear­ing about the amaz­ing deceased star dead before his time, fur­ther fluff­ing Klace's ego. Like we didn't do that enough by shelling mon­ey out for this thing.
MajorMinor plays just fine for a visu­al nov­el. Although — and I hate to say this — Depression Quest had more mean­ing­ful choic­es than this title did. It's a "hor­ror" visu­al nov­el, but I wasn't very scared. Maybe it'll get bet­ter with time as the new chap­ters come out. We can only hope. You can eas­i­ly just hold down your space­bar, and that's all you real­ly need to do when it comes to con­trols.
If you want to get the thing over with as soon as pos­si­ble, it real­ly does add to the expe­ri­ence to see that pre­ten­tious and use­less dia­logue just fly by.
The fram­er­ate is fine being that it is a visu­al nov­el (for the love of God, if any VN messed this up I do not want to know) and the require­ments are very basic. Here's a screen­shot for you nerds that like sys­tem require­ments.


Now let's take a look at the art. I want to believe Klace drew the­se char­ac­ters on his own, but some­thing tells me he didn't. He doesn't seem to cred­it any­one, or any­thing, and claims you'll see the cred­its at the end of the last chap­ter of the game which could take months at least to find out who did his art or music (Klace does seem to be address­ing this, some­what, via text file cred­its in recent patch­es). His web­site list­ed on the Steam page isn't help­ful either, because it's his Patreon.
I'm sus­pi­cious as to who real­ly did the art, see­ing as the char­ac­ters don't ever change to emote. At all. You saw Eclair's face ear­lier when she was crying/giving an unseen per­son a BJ. They all have one emo­tion; which is some­thing that bugs me.
Not to men­tion the art is just off alto­geth­er.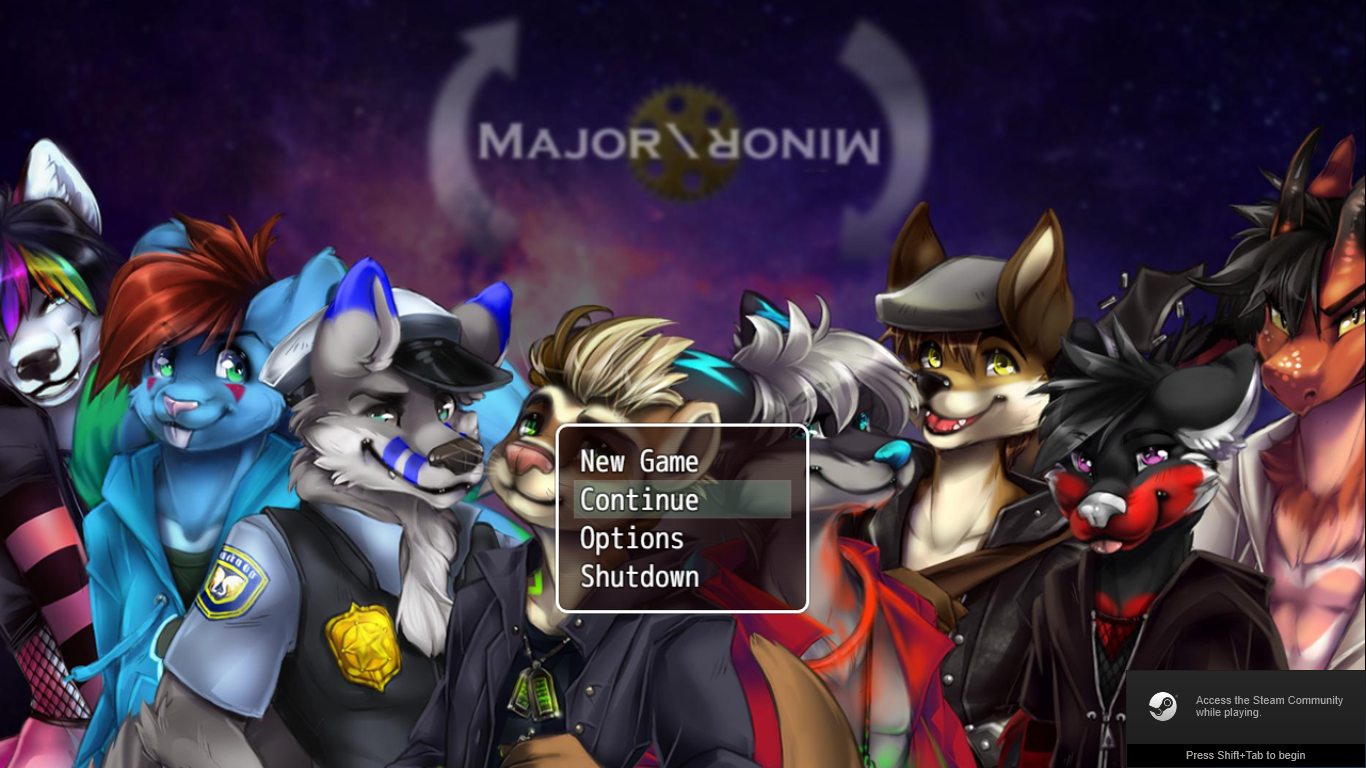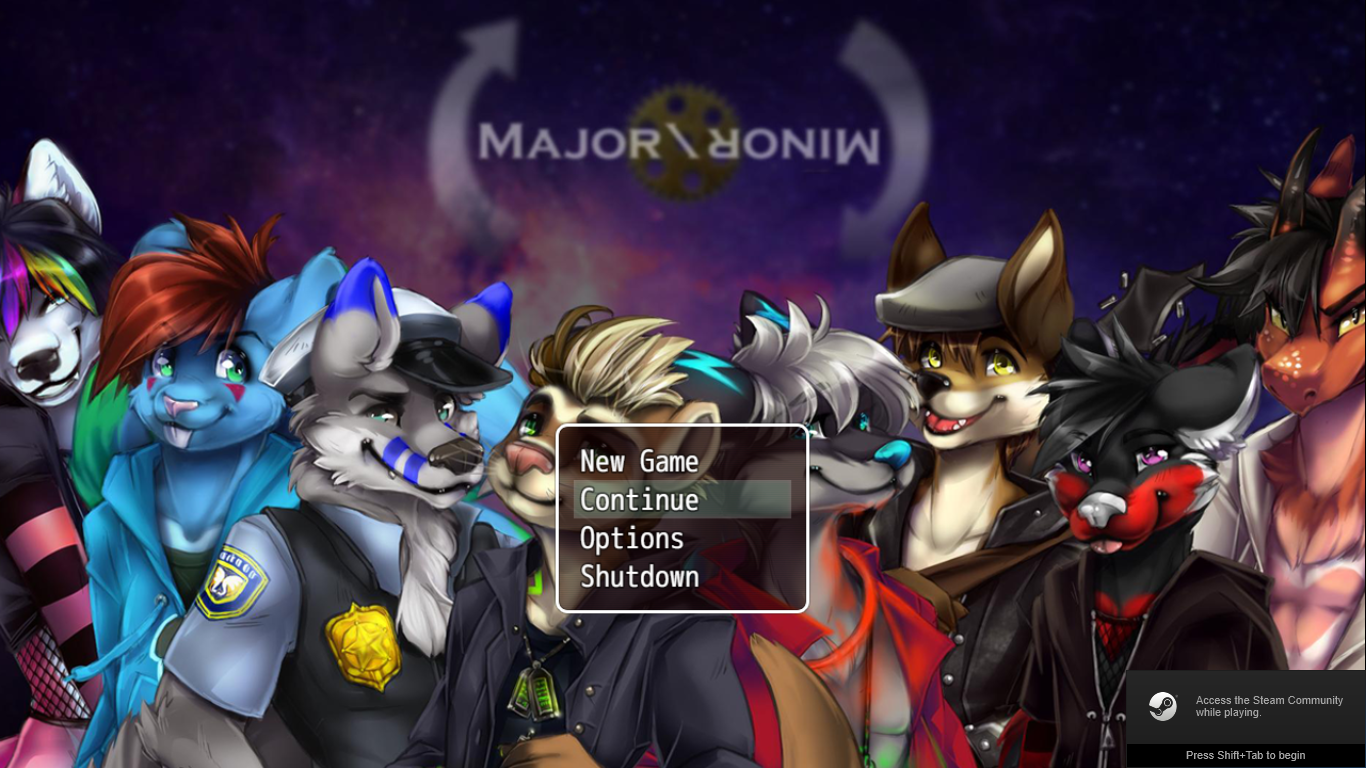 The pro­por­tions are off. Just look at them; look back at oth­er screen­shots. I have to say my least favorite part is Kila. His neck looks like it was made of Play-Doh, and some­one smushed it in. All their col­lar bones also make no sense.
Not to men­tion the con­stant­ly blur­ry back­grounds no mat­ter what you're doing, or where you are at. There was a point where the blur was hurt­ing my eyes so much I had to stop play­ing.
Oh! I almost for­got. Look close­ly for what's wrong here in the phone's crop­ping. I'll let you fig­ure it out.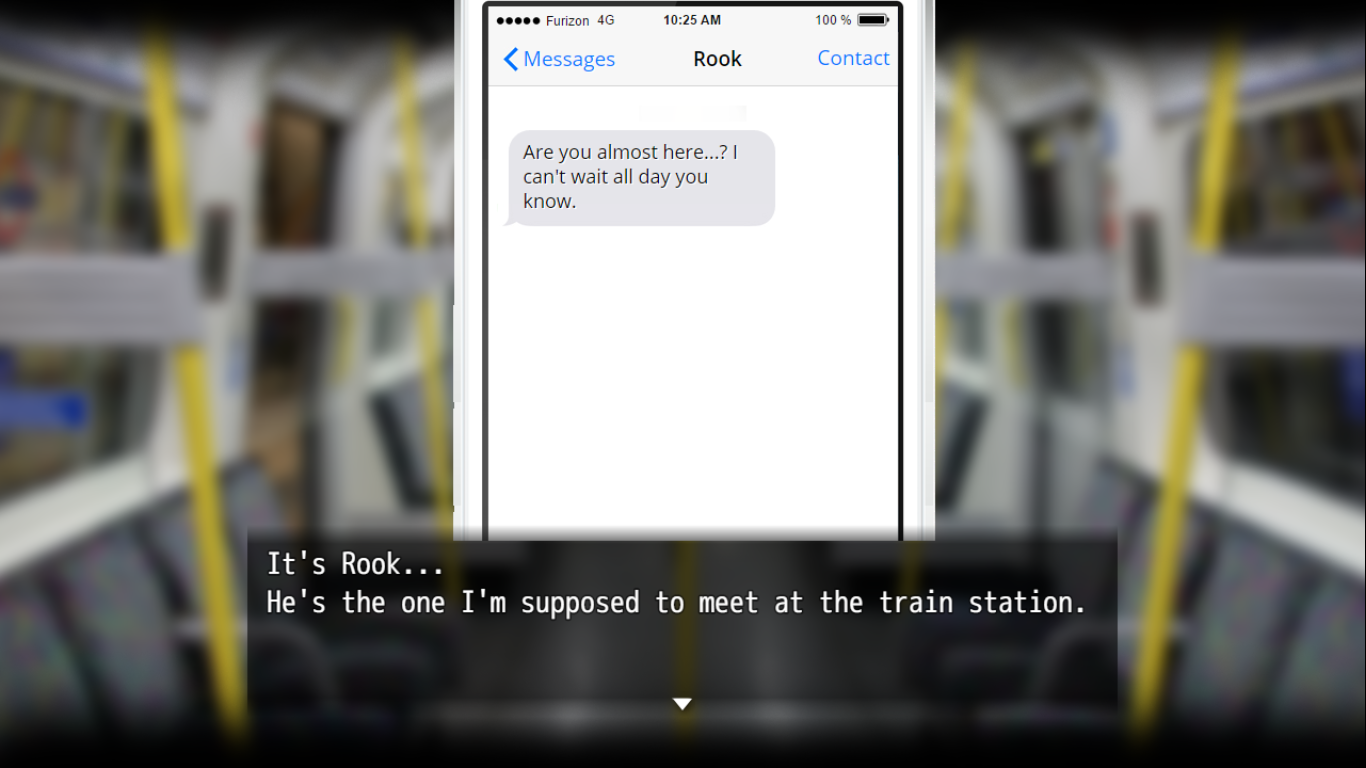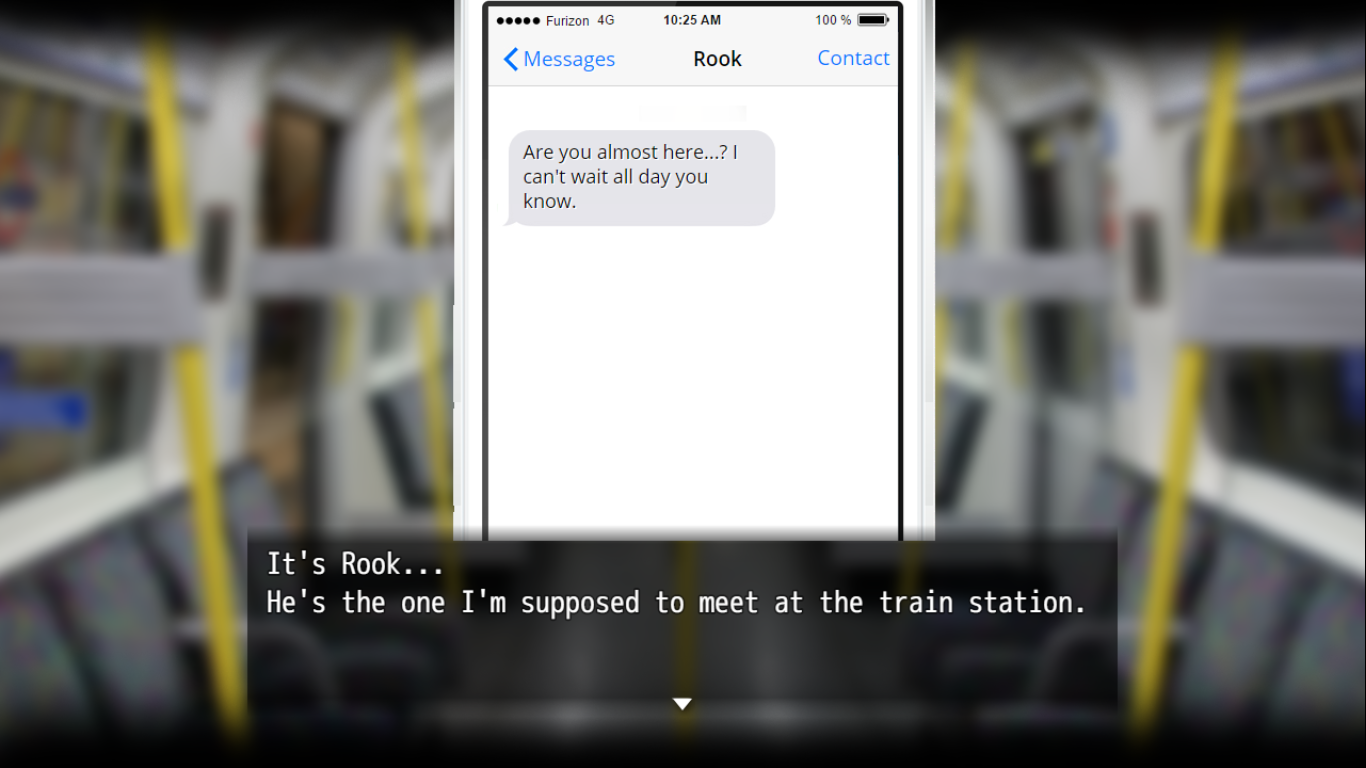 The music is good, I enjoyed most of it. It was cer­tain­ly the most bear­able part of this expe­ri­ence. Although I can­not find out who did the music. Come on, Klace, tell us already! I found one song on his YouTube account that was com­posed by some­one else, but he wrote the lyrics for it. That's it. Not to men­tion the tracks remind me of Chrono Trigger. Most of the music sounds a lot like Chrono Trigger in fact, and I'm not sure if that's a good thing. I kind of don't want to remem­ber one of my favorite games while play­ing this.
So far MajorMinor is an anthro­po­mor­phic Hell that I sin­cere­ly hope gets bet­ter by the next few chap­ters. I wouldn't rec­om­mend get­ting this, but it's your mon­ey and I'm not your mom.
This game is ongo­ing, so I'll be review­ing sub­se­quent chap­ters as more comes out. I went in this opti­mistic that this would be bet­ter than I expect­ed, but I was dead wrong so far. I actu­al­ly thought that this was some 16 year old's first game, and I want­ed to go easy on him. But then I found out Klace was 25 and still added him­self as a major­ly impor­tant char­ac­ter and the game is wrote in a way that was so cringey and illog­i­cal. Honestly, look at it.

There's also some­thing dubbed Klacegate that I'd rather not get into here, but decid­ed it would be worth men­tion­ing so any­one who actu­al­ly still want­ed to buy this game by now is fore­warned.
Stay tuned for far­ther parts of this review as more chap­ters of this fur­ry train­wreck come out! I pray my san­i­ty lasts.
https://supernerdland.com/majorminor-review-part-one/
https://supernerdland.com/wp-content/uploads/2015/12/header.jpg
https://supernerdland.com/wp-content/uploads/2015/12/header-150x150.jpg
PC
PC

Reviews
Major/Minor,

PC

,Reviews
"Though I walk through the val­ley of the shad­ow of death I shall fear no evil." Psalm 23.Major\Minor recent­ly came out on Steam for $9.99, and again­st my bet­ter judg­ment I bought it dur­ing a sale. The game is made by Klace, and I'm led to believe that this…
Catelyn Winters
Catelyn
Winters
cate@supernerdland.com
Author
The old­est 12 year old.
SuperNerdLand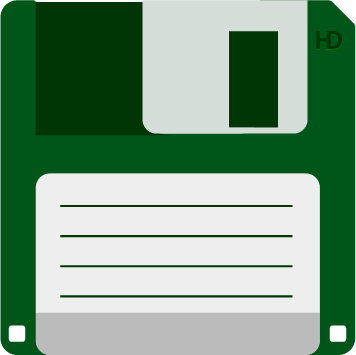 The fol­low­ing two tabs change con­tent below.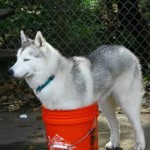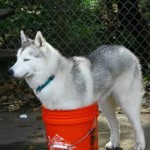 Latest posts by Catelyn Winters (see all)